Perisher Valley is a Ski Resort Village located in the Australian Snowy Mountains, NSW Australia.
Perisher (known as Perisher Blue until 2009) is the largest ski resort in the southern hemisphere.
Located in the Australian Snowy Mountains, the resort is an amalgamation of four villages (Perisher Valley, Smiggin Holes, Guthega, and Blue Cow) and their associated ski fields, covering approximately 12 square kilometres (4.6 sq mi), with the base elevation at 1,720 metres (5,640 ft) AHD, and the summit elevation of 2,054 metres (6,739 ft) at the top of Mount Perisher. 4.4 square kilometres (1.7 sq mi) of this area is covered by 240 snow guns, which are used to artificially supplement the natural snowfall, particularly since the drought commencing in the early 2000s.
The resort is accessible by road and by the Skitube, Australia's only underground rack railway.
The main skiing period is in July and August, with the official season running from the second weekend in June to the first weekend of October.
Perisher consists of 47 lifts: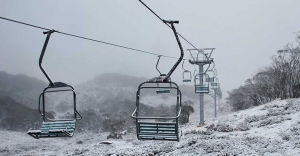 The Village Eight Express, an eight seater chairlift (built in 2003), three high-speed quad detachable chairlifts, four fixed-grip quad chairlifts, four double chairlifts, two triple chairlifts, 21 T-Bars, three J-bars, seven ski carpets, and 2 rope tows. In 2014 the Freedom Quad chair was added to Guthega one of the most picturesque areas on the whole mountain.
The ski run difficulties are graded 22% beginner, 60% intermediate and 18% advanced.
Access to the village is via Ski Tube  or by the Kosciuszko Road.
Perisher Resort includes four villages you can ski across, Guthega, Smiggin Holes, Blue Cow and Perisher Valley.
From Perisher Valley Ski Tube you can book snow vehicles to access Charlottes Pass Resort.
Cross country skiing is extremely popular at Perisher, or perhaps try snowshoeing.
If skiing isn't for you? Located next to the car park at Perisher is 'Tube Town' and the toboggan terrain.
If you are not skiing and just come to Perisher to sight see, take the Quad chair to the top as a foot passenger, the scenery is amazing.
You can drive from Canberra to Perisher depending on road conditions in 2 hours and 33mins.