Thredbo Village and ski resort (36°30′S 148°18′E) is in the Snowy Mountains of New South Wales, Australia, and a part of the Snowy River Shire.
Thredbo is about 500 kilometres south of Sydney, accessible by the Alpine Way via Cooma, Berridale, and Jindabyne. The village is built in the valley of the Thredbo River, also known as the Crackenback River, at the foot of the Ramshead Range.
When the mountain is fully covered by snow, Thredbo has the longest ski runs in Australia, and this attracts over 100,000 winter visitors annually. In summer, Thredbo is a hiking and summer sport destination, including rock climbing and abseiling, fishing and cross-country cycling.
Thredbo Ski Runs
Thredbo has over 50 ski runs and employs a standard 3-colour grade system; green for beginners, blue intermediate and black diamond advanced. The longest continual run is from the top of Karel's T-Bar to Friday Flat and is 5.9 km long; however, this is composed of several trails.
The longest single run is the Crackenback Supertrail, which is the longest run in Australia. The most difficult run in Thredbo has said to be the Funnel Web, an essentially ungroomed ski trail notorious for its near-vertical middle section and bumps and moguls.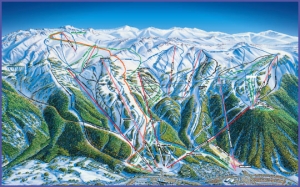 During the Vietnam War, Australia was one of the destinations soldiers could pick for a week long R & R. At the Sydney airport the USO had different activities that could be chosen if the soldier wished. One option was skiing at Thredbo at a reduced rate.
The package included round trip transportation (part by air, part bus), and for each night of lodging, breakfast and dinner, equipment, a group lesson, and a lift ticket. Also included were gloves, ski pants, and a warm jacket; soldiers in Vietnam didn't have any of that so needed it all to be furnished. At the end of the season mats were placed on the lower slopes enabling one to ski to the bottom.
The village offers a free shuttle bus service during winter that link the Valley Terminal, Friday Flat, and the majority of the ski lodges.
Thredbo is the closest resort to Mount Kosciuszko, which makes it a popular tourist destination in summer for hiking one of the 7 summits in the world.
You can also bring your bikes as the mountain becomes an all terrain for serious downhill mountain bike enthusiasts and in November, Thredbo attracts many motor bikes for the famous annual Snowy Ride.
Thredbo Jazz and Blues
Thredbo also features the famous Jazz and Blues Festivals. Experience the artists favourite festival surrounded by Australia's highest mountains in the charming, intimate and rocking Thredbo Alpine Village!
Great pic of Russell Morris one of the hottest talents in Australian blues and in the line up for 2015.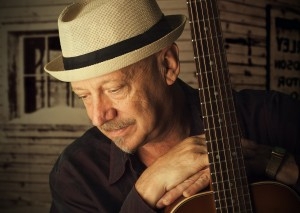 For more info contact Thredbo Alpine Village, or click here….
Experience Thredbo whatever the season!