The beautiful town of Jindabyne is located 2 hours from Canberra, south-east New South Wales, Australia
The first full glimpse you see as you turn the bends approaching Jindabyne is the huge breathtaking mountains with Lake Jindabyne sparkling below.
Lake Jindabyne is just near the Snowy Mountains in Snowy River Shire
It is a popular holiday destination, especially in winter, due to its proximity to several ski resorts throughout the Kosciuszko National Park, including Thredbo and Perisher. Originally situated on land that is now under Lake Jindabyne, the township was transferred to its present location in the 1960s due to the construction of Jindabyne Dam, on the Snowy River, as part of the Snowy Mountains Scheme. At the 2006 census, Jindabyne had a population of 1,903 people. The town's name is derived from an aboriginal word meaning 'valley'.
Skiing and Tourism in Jindabyne
Jindabyne is a service town for Australia's highest ski resorts: Perisher, Thredbo and Charlotte Pass. Thredbo and Perisher are approximately 30 minutes drive into the Kosciuszko National Park, although require the payment of park entry fees and the compulsory carrying of snow chains in winter. However, Jindabyne also attracts tourists in summer with Lake Jindabyne popular for activities such as fishing, water skiing and wakeboarding.
The town is heavily tourist-oriented with a large range of snow-sport rental outlets and accommodation facilities. Prices can be heavily increased during the peak winter season, although they generally remain lower than those of outlets within the national park and ski resorts.
Lake Jindabyne is a popular sailing, walking and fishing destination. The body of water is one of the largest fresh water reservoirs in New South Wales, and has a resident population of Atlantic Salmon, Brook Trout and Rainbow Trout. Lake Jindabyne also has a reputation as one of the best places to catch trout in Australia. The Gaden Trout Hatchery, located about 10 kilometres north-west of Jindabyne, on the route leading to Perisher, holds tours of the hatchery's trout ponds, and is one of Australia's main centres involved in the breeding and rearing of cold water sport fish.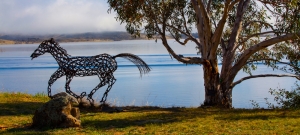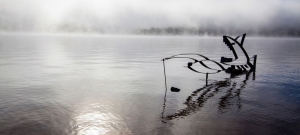 In April the foreshore of lake Jindabyne is transformed and lit up at night exhibiting the local artists sculptures.